Russian Search Engines Introduction
ABigBizApr14, 2020【Trade Study】 ℃ Leave a Reply
Russian market has been a big chance for foreign trade salesmen because in recent years the Russian economy maintained a rapid growth and strong domestic demand. More importantly, Russian economy gives priority to heavy industry from the former Soviet Union which is largely complementary of China's economic structure. And that is what makes China becomes one of Russia's most important trading partners.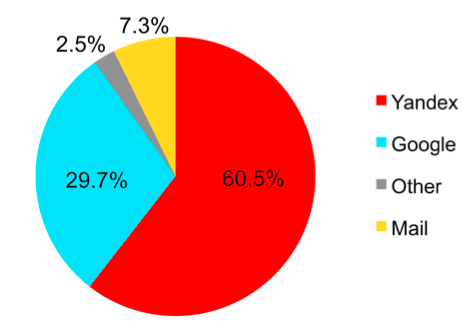 In order to make it easier to search for relevant buyers in Russia, here are a few local search engines:
1. Yandex.ru
In February 2008 Russian search engine market share survey according to search volume statistics, Yandex, the Russia's local search engine, was accounted for 47.4% of the market share which was nearly half of Russia's search volume, becoming Russia's top one search engine. Google ranks second, accounting for 31.2 percent market share, behind Yandex about 16 percentage points.
Yandex.ru is also the top search engine in Eastern Europe, Russia's largest site and the most popular local site of CIS countries with Alexa ranking 39. According to information of Gallup Media ФОМ and Комкон research company, yandex is the website with the most users in Eastern Europe which shows the majority of users' recognization to Yandex service performance. It always serve domestic and international customers with the greatest enthusiasm and provide the most comprehensive Russian search results in the first time, and it is what makes Yandex the preferred site to the Russian users for Russian information searching.
2. Google.ru
Russian version of Google, there is not much introduction.
3. Rambler.ru
Rambler Media takes about 9.7% market share of Russian search engine market and it is a very important site in Russia. In 1997, Rambler Media launched the "Top100" ranking service, which was the first website that provided the search and ranking service in CIS countries. Strictly speaking, rambler.ru should be regarded as a Russian industry classification site. There are about 8 million users use this website for relevant information per day. It is the second largest local search engine in Russia. In the aspect of industry classification, particularly the supply and demand query terms of enterprise information , rambler.ru is better than yandex.ru.
4. Mail.ru
Mail.ru is one of the top four search engines in CIS ranking of Alexa 25. It is also one of the largest e-mail service website in Eastern Europe and the number of visitors reaches over three million per day. According to Gallup Media research data, 70% Internet users in Eastern Europe use Mail.ru. Its efficient mail service makes it the most popular e-mail service network in Central Asia. In addition, as one of the largest information website, Mail.ru also provides the latest and fastest news to the users. Mail.ru search function is very powerful, especially in Russian information searching. It has the certain technical and information resources and takes around 7.0 % market share of search volume. Mail.ru 's directory is also very famous, like list.mail.ru
5. Webalta.ru
Webalta is a very popular search engines in Russia which is well-known for its simple design.
6. ru.yahoo.com
Russian version of Yahoo,which only takes around 1.3% share of the Russian search engines market.
- END -
Finished browsing? You can ask me to comment and Leave a Reply!
Leave a Reply!